How Many Square Feet Is It Really?
The media has been making a big news story out of the case out west of a woman who claims that misrepresented square footage on a listing when she bought has cost her thousands of dollars. Now of course, I have my own opinions on this as you can guess but I'll keep them to myself. Bashing REALTORS® is just so much fun and I wouldn't want to rain on the parade.
The Canadian Real Estate Association does have standards of practice including rules of measurement. In my experience, most people do not understand that the square footage reported on a listing does not include spaces that are below grade. There are also other significant reporting differences from what people might expect. Below is just a small taste of a few styles of homes and how they are to be measured.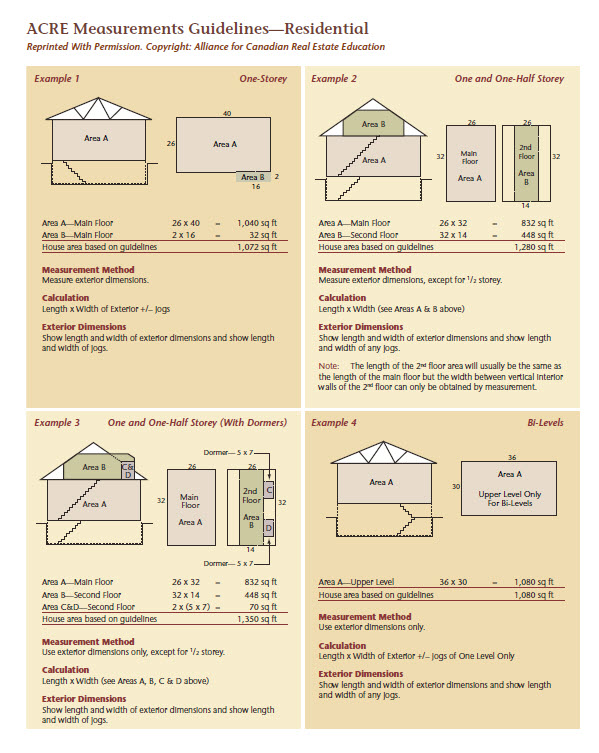 One of the most common errors we see is in 1 ½ or 2 ½ storey homes. You know the ones – sloped ceilings inside, steep roof lines? They are particularly common in older homes. Since you do not have full height on the upper level, not all of the square feet can be counted. If it is a half storey, we can only add half the square footage of the foot print. Things get even trickier when you have dormers to factor in. Another challenge is homes with walk-out basements and the variety of these leads to errors and inconsistencies in reporting.
Another thing many people are not aware of is that square footage calculations are taken from the exterior of a house and not inside the way you typically might see in commercial measurements. In condos, builders often measure from the mid point of a centre wall.
The bottom line is, do your own due diligence when looking at a home. Does the space work for you? Great. Is square footage important in your area in regard to impact on value? Then determine how you want to have that square footage verified and further, how accurate is the information of whatever other homes you are comparing it to?
It's these kind of details that people don't often talk or think about but apparently, they make great news stories.