An Alternative to Buying An Investment Condo at Blue Mountain
I get a LOT of calls from people looking for a recreational, investment condominium unit at Blue Mountain that they can rent out and cover all of their costs including any mortgaging.  Often, they have $75,000 or more to put in as a down payment.
I've said it before and will say it again.  It's almost impossible to cover  the cost of a mortgage and here is why.  When you do short term rentals, you as an owner have the overhead costs of the company that handles the management of your rentals.  Right off the top, that will likely run 30-50% of your gross rental income.  From what is left, you may have utility costs to pay, you will have realty taxes, condo fees, insurance, cleaning fees and other incidentals.
Many of the recreational condos in our area are very desirable for guests looking to stay in the area and occupancy rates can be great.  In the end though, it doesn't matter how much you make, it matters how much you have left after paying the expenses and in many cases, the income will cover the operating costs but not the cost of carrying a mortgage too.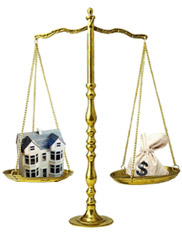 If someone is looking at buying a condo they can use themselves and rent out the rest of the time in order to offset the operating costs but knowing they will have to carry any of the mortgaging costs,  that works well.  If however they are looking to cover all costs or generate a cash flow, then there are alternatives.  Here is an example.
It is possible to buy a two or sometimes even 3 bedroom condo, like this one or this one, for $150,000 or so in our area.  The location is desirable for either a full-time tenancy or, for both summer and winter seasonal rentals, usually 2-4 months, which are permitted in all areas.  Let's say you have a $75,000 down payment and, let's assume the property taxes, maintenance fees and insurance costs run about $500.00 a month combined.  You finance the balance of the price ($75,000) at 3% with a 25 year amortization.
The mortgage would run about $350 per month and the operating costs about $600 per month for a total of $950.00 in overhead.  Depending on the condition and location, you should be able to rent it out for $1,100 to $1,300 per month generating a positive cash flow of $150.00 to $350.00 per month while the tenant is retiring the debt on your unit.  This is potentially a return of 5.6% on your original investment, before taxes and, does not factor in potential price appreciation or equity built through retirement of the mortgage over time.  The reason this works is that you don't have management fees, cleaning fees or utilities to pay.
If you are an investor looking to buy a condo in our area, you may want to look at alternatives to a managed, hotel-style suite if you need to cover mortgage costs too.  Feel free to get in touch with me to explore your options for owning a little piece of our paradise.
Related Post:  Buying An Investment Condo at Blue Mountain